Product Summary
The LPC2368FBD100 Single-chip microcontroller is based on a 16-bit/32-bit ARM7TDMI-S CPU with real-time emulation that combines the microcontroller with up to 512 kB of embedded high-speed flash memory. A 128-bit wide memory interface and a unique accelerator architecture enable 32-bit code execution at the maximum clock rate. For critical performance in interrupt service routines and DSP algorithms, this increases performance up to 30 % over Thumb mode. For critical code size applications, the LPC2368FBD10 alternative 16-bit Thumb mode reduces code by more than 30 % with minimal performance penalty.
Parametrics
LPC2368FBD100 absolute maximum ratings: (1)supply voltage (core and external rail): -0.5 V min and +3.6 V max; (2)analog 3.3 V pad supply voltage: -0.5 V min and +4.6 V max; (3)input voltage on pin VBAT: -0.5 V min and +4.6 V max; (4)input voltage on pin VREF: -0.5 V min and +4.6 V max; (5)input voltage: -0.5V min and +6.0V max; (6)supply current per supply pin: - 100 mA; (7)ground current per ground pin: - 100 mA; (8)torage temperature: -40 to +125 ℃.
Features
LPC2368FBD100 features: (1)ARM7TDMI-S processor, running at up to 72 MHz; (2)Up to 512 kB on-chip Flash Program Memory with In-System Programming (ISP) and In-Application Programming (IAP) capabilities. Flash program memory is on the ARM local bus for high performance CPU access; (3)8/32 kB of SRAM on the ARM local bus for high performance CPU access; (4)16 kB SRAM for Ethernet interface. Can also be used as general purpose SRAM; (5)8 kB SRAM for general purpose DMA use also accessible by the USB; (6)Dual AHB system that provides for simultaneous Ethernet DMA, USB DMA, and program execution from on-chip Flash with no contention between those functions. A bus bridge allows the Ethernet DMA to access the other AHB subsystem; (7)Advanced Vectored Interrupt Controller, supporting up to 32 vectored interrupts.
Diagrams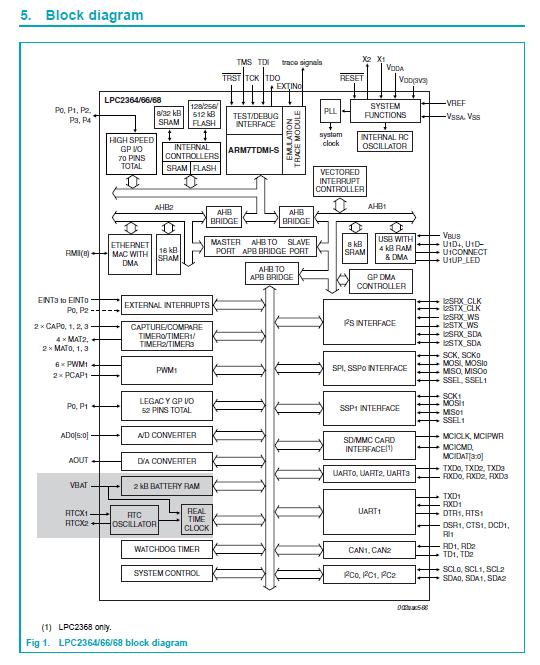 Image
Part No
Mfg
Description
Pricing
(USD)
Quantity

LPC2368FBD100,551

NXP Semiconductors

ARM Microcontrollers (MCU) ARM7 512KF/USB/ENET

Data Sheet



| | |
| --- | --- |
| 0-1: | $5.41 |
| 1-25: | $4.85 |
| 25-100: | $4.46 |
| 100-250: | $4.29 |

Image
Part No
Mfg
Description
Pricing
(USD)
Quantity

LPC200CTP

VCC

LED Light Pipes Round Lightpipe 2.00" Clear

Data Sheet



| | |
| --- | --- |
| 0-1: | $0.26 |
| 1-10: | $0.23 |
| 10-100: | $0.20 |
| 100-500: | $0.16 |


LPC2101

Other



Data Sheet

Negotiable

LPC2101FBD48,151

NXP Semiconductors

ARM Microcontrollers (MCU) ARM7 8KF/2KR/10BADC

Data Sheet



| | |
| --- | --- |
| 0-1: | $2.15 |
| 1-25: | $1.73 |
| 25-100: | $1.44 |
| 100-250: | $1.31 |


LPC2102

Other



Data Sheet

Negotiable

LPC2102FBD48,118

NXP Semiconductors

ARM Microcontrollers (MCU) 16K FL/4K RAM 10BIT ADC

Data Sheet



| | |
| --- | --- |
| 0-1505: | $1.48 |
| 1505-2000: | $1.48 |
| 2000-3000: | $1.42 |


LPC2102FBD48,151

NXP Semiconductors

ARM Microcontrollers (MCU) ARM7 16KF/4KR/10BADC

Data Sheet



| | |
| --- | --- |
| 0-1: | $3.11 |
| 1-25: | $2.50 |
| 25-100: | $2.27 |
| 100-250: | $1.66 |