Product Summary
The TNY275PN is an Energy-Efficient, Off-Line Switcher With Enhanced Flexibility and Extended Power Range. The device incorporates a 700 V power MOSFET, oscillator, high voltage switched current source, current limit (user selectable) and thermal shutdown circuitry. The TNY275PN uses an ON/OFF control scheme and offers a design fl exible solution with a low system cost and extended power capability.
Parametrics
TNY275PN absolute maximum ratings: (1)DRAIN Voltage: -0.3 V to 700 V; (2)DRAIN Peak Current: 560 (1050) mA; (3)EN/UV Voltage: -0.3 V to 9 V; (4)EN/UV Current: 100 mA; (5)BP/M Voltage: -0.3 V to 9 V; (6)Storage Temperature: -65 to 150℃; (7)Operating Junction Temperature: -40 to 150℃; (8)Lead Temperature: 260℃.
Features
TNY275PN features: (1)Simple ON/OFF control, no loop compensation needed; (2)Selectable current limit through BP/M capacitor value; (3)Higher current limit extends peak power or, in open frame applications, maximum continuous power; (4)Lower current limit improves effi ciency in enclosed adapters/chargers; (5)Allows optimum TinySwitch-III choice by swapping devices with no other circuit redesign; (6)Tight I2f parameter tolerance reduces system cost; (7)Maximizes MOSFET and magnetics power delivery; (8)Minimizes max overload power, reducing cost of; (9)transformer, primary clamp & secondary components; (10)ON-time extension – extends low line regulation range/hold-up time to reduce input bulk capacitance; (11)Self-biased: no bias winding or bias components; (12)Frequency jittering reduces EMI fi lter costs; (13)Pin-out simplifi es heatsinking to the PCB; (14)SOURCE pins are electrically quiet for low EMI.
Diagrams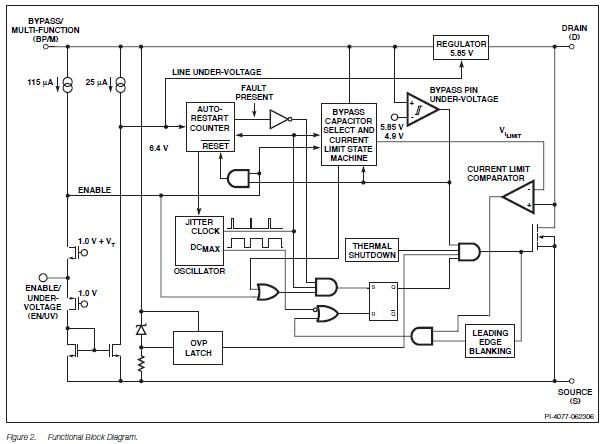 Image
Part No
Mfg
Description
Pricing
(USD)
Quantity

TNY275PN

Power Integrations

AC/DC Switching Converters 11.5W 85-265 VAC 15W/230 VAC

Data Sheet



| | |
| --- | --- |
| 0-1: | $0.73 |
| 1-25: | $0.65 |
| 25-100: | $0.55 |
| 100-250: | $0.49 |

Image
Part No
Mfg
Description
Pricing
(USD)
Quantity

TNY253

Other



Data Sheet

Negotiable

TNY253G

Power Integrations

AC/DC Switching Converters 2W 85-265 VAC 4W 100/115/230 VAC

Data Sheet

Negotiable

TNY253GN

Power Integrations

AC/DC Switching Converters 2W 85-265 VAC 4W 100/115/230 VAC

Data Sheet



| | |
| --- | --- |
| 0-1: | $0.76 |
| 1-25: | $0.68 |
| 25-100: | $0.61 |
| 100-250: | $0.57 |


TNY253GN-TL

Power Integrations

AC/DC Switching Converters 2W 85-265 VAC 4W 100/115/230 VAC

Data Sheet



| | |
| --- | --- |
| 0-760: | $0.52 |
| 760-1000: | $0.51 |


TNY253G-TL

Power Integrations

AC/DC Switching Converters 2W 85-265 VAC 4W 100/115/230 VAC

Data Sheet

Negotiable

TNY253P

Power Integrations

AC/DC Switching Converters 2W 85-265 VAC 4W 100/115/230 VAC

Data Sheet

Negotiable