Product Summary
The IS61C6416AL-12TLI is high-speed, 1,048,576-bit static RAM organized as 65,536 words by 16 bits. It is fabricated using high-performance CMOS technology of ISSI. This highly reliable process coupled with innovative circuit design techniques, yields access times as fast as 12 ns with low power consumption.
Parametrics
IS61C6416AL-12TLI absolute maxing ratings: (1)VTERM Terminal Voltage with Respect to GND: –0.5 to +7.0 V; (2)TSTG Storage Temperature: –65 to +150 ℃; (3)PT Power Dissipation: 1.5 W; (4)IOUT DC Output Current (LOW): 20 mA.
Features
IS61C6416AL-12TLI features: (1)High-speed access time: 12 ns, 15ns; (2)Low Active Power: 175 mW (typical); (3)Low Standby Power: 1 mW (typical) CMOS standby; (4)TTL compatible interface levels; (5)Single 5V ±10% power supply; (6)Fully static operation: no clock or refresh required; (7)Available in 44-pin SOJ package and 44-pin TSOP (Type II); (8)Commercial, Industrial and Automotive temperature ranges available; (9)Lead-free available.
Diagrams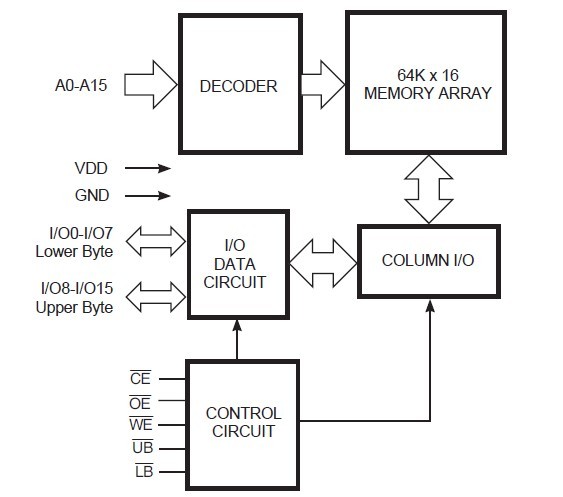 Image
Part No
Mfg
Description
Pricing
(USD)
Quantity

IS61C6416AL-12TLI

ISSI

SRAM 1Mb 64Kx16 12ns 5v Async SRAM

Data Sheet



| | |
| --- | --- |
| 0-1: | $1.56 |
| 1-25: | $1.40 |
| 25-100: | $1.25 |
| 100-500: | $1.09 |


IS61C6416AL-12TLI-TR

ISSI

SRAM 1Mb 64Kx16 12ns 5v Async SRAM

Data Sheet



| | |
| --- | --- |
| 0-1000: | $1.16 |
| 1000-2000: | $1.15 |
| 2000-5000: | $1.06 |