Product Summary
The REF02CPZ is a precision voltage reference. It provides a stable 5 V output that can be adjusted over a ±6% range with minimal effect on temperature stability. Single-supply operation over an input voltage range of 7 V to 40 V, low current drain of 1 mA, and excellent temperature stability are achieved with an improved band gap design. Low cost, low noise, and low power make the REF02CPZ an excellent choice whenever a stable voltage reference is required. Applications include DACs and ADCs, portable instrumentation, and digital voltmeters. The versatility of the REF02CPZ is enhanced by its use as a monolithic temperature transducer. For new designs, refer to the ADR02.
Parametrics
REF02CPZ absolute maximum ratings: (1)Input Voltage: 40 V; (2)Output Short-Circuit Duration to Ground or VIN: Indefinite; (3)Storage Temperature Range: –65 to +150℃; (4)Operating Temperature Range: –55 to +125℃; (5)Lead Temperature Range (Soldering 10 sec): 300℃.
Features
REF02CPZ features: (1)5 V output: ±0.3% maximum; (2)Temperature voltage output: 1.96 mV/℃; (3)Adjustment range: ±3% minimum; (4)Excellent temperature stability: 8.5 ppm/℃ maximum; (5)Low noise: 15 μV p-p maximum; (6)Low supply current: 1.4 mA maximum; (7)Wide input voltage range: 7 V to 40 V; (8)High load-driving capability: 10 mA; (9)No external components; (10)Short-circuit proof.
Diagrams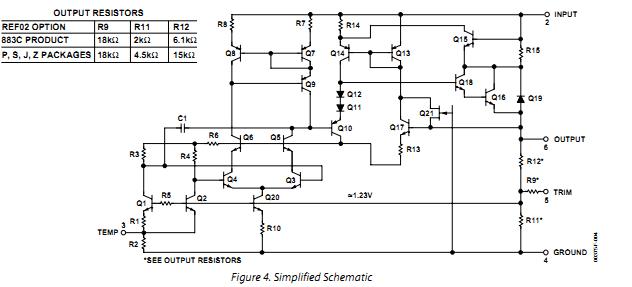 Image
Part No
Mfg
Description
Pricing
(USD)
Quantity

REF02CPZ



IC VREF SERIES PREC 5V 8-PDIP

Data Sheet



| | |
| --- | --- |
| 0-1: | $1.72 |
| 1-10: | $1.54 |
| 10-25: | $1.39 |
| 25-100: | $1.26 |
| 100-250: | $1.14 |
| 250-500: | $1.02 |
| 500-1000: | $0.86 |
| 1000-2500: | $0.82 |

Image
Part No
Mfg
Description
Pricing
(USD)
Quantity

REF01

Other



Data Sheet

Negotiable

REF01AJ/883B

Maxim Integrated Products

Voltage & Current References

Data Sheet

Negotiable

REF01AP

Texas Instruments

IC +10V PRECISION REFERENCE 8DIP

Data Sheet

Negotiable

REF01AU

Other



Data Sheet

Negotiable

REF01AZ

Analog Devices Inc

IC PREC VOLT REFERENCE 10V 8CDIP

Data Sheet

Negotiable

REF01AZ/883B

Maxim Integrated Products

Voltage & Current References

Data Sheet

Negotiable