Product Summary
The LC4032V-75TN44C is a In-System Programmable SuperFAST High Density PLD.
Parametrics
LC4032V-75TN44C absolute maximum ratings: (1)Supply Voltage (VCC): -0.5V to 5.5V; (2)Output Supply Voltage (VCCO): -0.5V to 4.5V; (3)Input or I/O Tristate Voltage Applied4, 5: -0.5V to 5.5V; (4)Storage Temperature:-65℃ to 150℃; (5)Junction Temperature with Power Applied:-55℃ to 150℃.
Features
LC4032V-75TN44C features: (1)fMAX = 400MHz maximum operating frequency; (2)tPD = 2.5ns propagation delay; (3)Up to four global clock pins with programmable clock polarity control; (4)Up to 80 PTs per output; (5)Up to four global OE controls; (6)Individual local OE control per I/O pin; (7)Excellent First-Time-Fit TM and refit; (8)Fast path, SpeedLockingTM Path, and wide-PT path; (9)5V tolerant I/O for LVCMOS 3.3, LVTTL, and PCI interfaces; (10)Hot-socketing; (11)Open-drain capability; (12)Input pull-up, pull-down or bus-keeper; (13)Programmable output slew rate; (14)3.3V PCI compatible; (15)IEEE 1149.1 boundary scan testable; (16)3.3V/2.5V/1.8V In-System Programmable.
Diagrams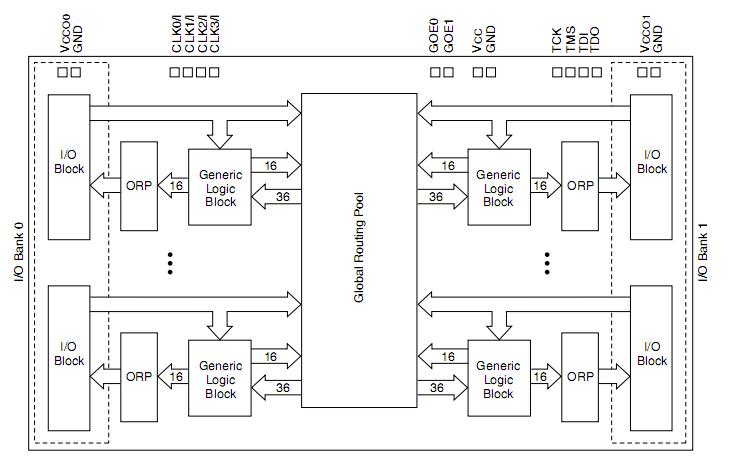 Image
Part No
Mfg
Description
Pricing
(USD)
Quantity

LC4032V-75TN44C

Lattice

CPLD - Complex Programmable Logic Devices 400 MHZ 32 Macrocell 3.3 V 7.5 tPD

Data Sheet



| | |
| --- | --- |
| 0-1: | $0.86 |
| 1-25: | $0.78 |
| 25-100: | $0.75 |

Image
Part No
Mfg
Description
Pricing
(USD)
Quantity

LC401

Other



Data Sheet

Negotiable

LC4021

Other



Data Sheet

Negotiable

LC4032B-10T44I

Lattice

CPLD - Complex Programmable Logic Devices PROGRAMMABLE SUPER FAST HI DENSITY PLD

Data Sheet



| | |
| --- | --- |
| 0-10: | $0.86 |
| 10-25: | $0.78 |
| 25-100: | $0.75 |


LC4032B-10T48I

Lattice

CPLD - Complex Programmable Logic Devices PROGRAMMABLE SUPER FAST HI DENSITY PLD

Data Sheet



| | |
| --- | --- |
| 0-10: | $1.07 |
| 10-25: | $0.96 |
| 25-100: | $0.94 |


LC4032B-10TN44I

Lattice

CPLD - Complex Programmable Logic Devices PROGRAMMABLE SUPER FAST HI DENSITY PLD

Data Sheet



| | |
| --- | --- |
| 0-1: | $0.86 |
| 1-25: | $0.78 |
| 25-100: | $0.75 |


LC4032B-10TN48I

Lattice

CPLD - Complex Programmable Logic Devices PROGRAMMABLE SUPER FAST HI DENSITY PLD

Data Sheet



| | |
| --- | --- |
| 0-1: | $1.07 |
| 1-25: | $0.96 |
| 25-100: | $0.94 |