Product Summary
The IS62C256AL-45ULI is one member of the IS62C256AL family which is designed as the 32K x 8 low power CMOS static RAM device that is available in plastic SOP or TSOP (Type I) package. And this device assumes a standby mode at which the power dissipation can be reduced down to 150 μW (typical) at CMOS input levels.
Parametrics
IS62C256AL-45ULI absolute maximum ratings: (1)Terminal Voltage with Respect to GND: -0.5 to +7.0 V;(2)DC output current (low): 20 mA;(3)Storage Temperature: -65 to +150 ℃;(4)Power Dissipation: 0.5 W.
Features
IS62C256AL-45ULI features: (1)Access time: 25 ns, 45 ns; (2)Low active power: 200 mW (typical); (3)Low standby power: 150 uW (typical) CMOS standby and 15 mW (typical) operating; (4)Fully static operation: no clock or refresh required; (5)TTL compatible inputs and outputs; (6)Single 5V power supply; (7)Lead-free available; (8)Industrial and Automotive temperatures available.
Diagrams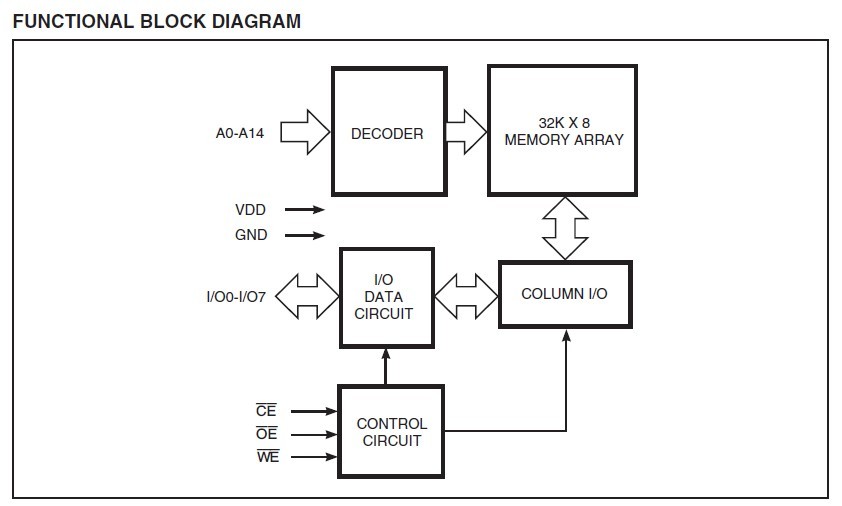 Image
Part No
Mfg
Description
Pricing
(USD)
Quantity

IS62C256AL-45ULI

ISSI

SRAM 256K 32K x 8 45ns 5v Async SRAM 5v

Data Sheet



| | |
| --- | --- |
| 0-1: | $0.80 |
| 1-25: | $0.73 |
| 25-100: | $0.64 |
| 100-500: | $0.56 |


IS62C256AL-45ULI-TR

ISSI

SRAM 256K 32K x 8 45ns 5v Async SRAM 5v

Data Sheet



| | |
| --- | --- |
| 0-1000: | $0.64 |
| 1000-2000: | $0.61 |
| 2000-5000: | $0.59 |
| 5000-10000: | $0.58 |